Last updated 02 January 2017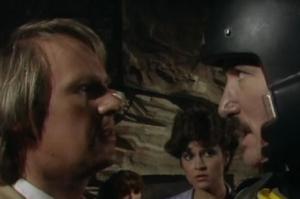 Broadcast: Saturday 19th September 1998
5:00pm-6:30pm EDT
(21:00 GMT)
<
>
«
»
WUFT
Featuring: Peter Davison, Janet Fielding, Sarah Sutton, Matthew Waterhouse
Deadly androids are protecting a bomb buried beneath the Earth from all investigation. However, the Doctor manages to disable it, alerting its owners – the Cybermen...
Synopsis Source: Doctor Who Guide
Broadcast Source: TWIDW
Report from the This Week in Doctor Who Archive:
Friday 18th September 1998:
WUFT 5 in Gainesville, Florida
will give viewers
Earthshock
Saturday afternoon at 5PM
. The 5th Doctor and company land in a series of caves in the 26th Century. Meanwhile, an expedition in the save set of caves is slaughtered by a mysterious force. A follow.up expedition suspects the Doctor, but the answer is far more serious. And that's just episode 1. By the end of the movie format broadcast, British viewers were left shocked at a story that broke one of the cardinal rules of the series. If you don't know what happens, watch and be surprised. If you do know, get an unsuspecting person to watch with you and gauge the reaction after he or she sees the ending.