Last updated 02 January 2017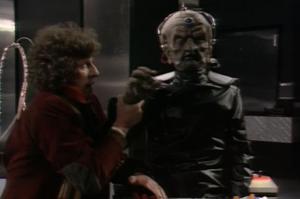 Broadcast: Friday 13th November 1998
10:30pm-11:00pm EST
(03:30 GMT)
<
>
«
»
WQED
Featuring: Tom Baker, Ian Marter, Elisabeth Sladen, Peter Miles, Michael Wisher, Stephen Yardley
With Harry and Sarah his prisoners, Davros interrogates the Doctor, forcing him to reveal the future of the Daleks so that he can learn from their defeats to make them stronger.
Synopsis Source: Doctor Who Guide
Broadcast Source: TWIDW
Report from the This Week in Doctor Who Archive:
Friday 13th November 1998:
WQED / WQEX Pittsburgh, Pennsylvania
- channels 13, 16
Saturday at 10:30PM - Genesis of the Daleks - episode 5 of 6
The stakes have been raised. Davros now possesses a tape which, if its information is given to the Daleks, will enable them to succeed in all the battles through history where they've failed. In a tinge of sad irony, it appears that the future the Time Lords predicted is the fault of the Doctor's efforts to follow their directive to prevent it.