Last updated 02 January 2017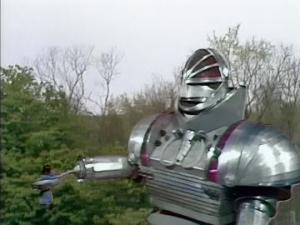 Broadcast: Sunday 23rd August 1998
5:20am-5:50am EDT
(09:20 GMT)
<
>
«
»
BBC America
Featuring: Tom Baker, Nicholas Courtney, Ian Marter, Elisabeth Sladen, Patricia Maynard
The Doctor races to avert a nuclear holocaust. The robot, distraught over killing its creator, takes Sarah hostage and goes on a rampage.
Synopsis Source: Doctor Who Guide
Broadcast Source: TWIDW
Report from the This Week in Doctor Who Archive:
Friday 21st August 1998:
BBC America
, the Cable channel that isn't in many peoples' homes yet, offers viewers the conclusion of
Robot
this weekend. It will air
Saturday night at 11:20PM Eastern (8:20AM Pacific), with a repeat early Sunday morning at 5:20AM Eastern (2:20AM Pacific)
. The Robot suffers a nervous breakdown after (spoiler protected). He then kidnaps Sarah, the only person to show him kindness. Then, the Brigadier gets a bright idea, with disasterous consequences. Can the 4th Doctor save the world from a well.meaning but confused ROBOT? Bessie makes her final
regular
appearance as the Doctor's car in this episode.