Last updated 02 January 2017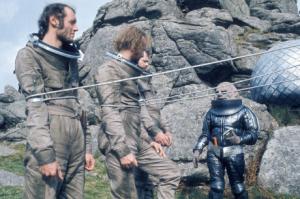 Broadcast: Sunday 4th October 1998
2:00pm-3:00pm EDT
(18:00 GMT)
<
>
«
»
BBC America
(adverts during broadcast)
Featuring: Tom Baker, Ian Marter, Elisabeth Sladen, Kevin Lindsay
The Doctor, Harry and Sarah find Earth is a desolate wilderness. They meet a group of stranded human colonists who are being hunted by a robot and experimented upon by its master.
Synopsis Source: Doctor Who Guide
Broadcast Source: TWIDW
Report from the This Week in Doctor Who Archive:
Friday 2nd October 1998:
BBC America
finally airs
new
Doctor Who
stories. They have ordered three stories, bringing the total number the network can air to 5.
First up: The Sontaran Experiment airs Saturday afternoon at 5PM Eastern in movie format. It repeats Sunday afternoon at 2PM Eastern.
This version will have commercials, and given past BBC America broadcasts, it might be edited. Use caution.