Last updated 02 January 2017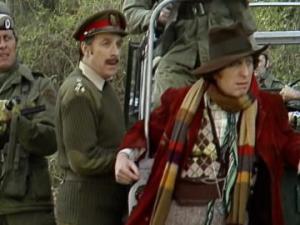 Broadcast: Sunday 16th August 1998
5:20am-5:50am EDT
(09:20 GMT)
<
>
«
»
BBC America
Featuring: Tom Baker, Nicholas Courtney, Ian Marter, Elisabeth Sladen, Patricia Maynard
Sealed inside an underground bunker, Miss Winters issues her demands to the world's leaders, threatening a devastating nuclear strike if her demands are not met.
Synopsis Source: Doctor Who Guide
Broadcast Source: TWIDW
Report from the This Week in Doctor Who Archive:
Friday 14th August 1998:
BBC America
is the only US Cable network currently offering its own schedule of
Doctor Who
episodes. Most satellites don't currently offer it. In fact, nearly all people getting this station are subscribers of TCI Cable. Most TCI systems are offering it on their new digital tier, though a few may be including it in the basic package. BBC America does have a little problem, though. They didn't order enough programming when they launched, and they won't get more until fall. So, right now most of the shows are getting frequent reruns, including the only 2 Doctor Who stories ordered when they launched. This week they will air (again) episode 3 of
Robot
, the first Tom Baker story. The Robot has another crisis of conscience, and a plot unfolds to start a nuclear war. Tune in
Saturday night at 11:20PM Eastern (8:20PM Pacific) and the next morning at 5:20AM Eastern (2:20AM Pacific)
. Well, you could invite your friends over and wow them by knowing exactly what dialogue the characters are going to use. ;-) It's a good story, but come on!