Last updated 21 February 2021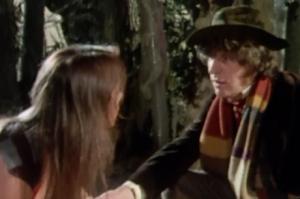 Visit Broadcast Link
Broadcast: Saturday 20th March 2021
11:00pm-12:30am CDT
(04:00 GMT)
<
>
«
»
WMVS/MPTV (Milwaukee) HD 10.1/36.2
Featuring: Tom Baker, Louise Jameson, Brendan Price
The TARDIS arrives on a planet where a savage tribe called the Sevateem worship a god called Xoanon. The Doctor discovers that Xoanon is in fact a spaceship computer that he tried to repair at some point in his past and inadvertently drove mad by giving it a multiple personality.
Synopsis Source: WSRE website schedule listing
---
Broadcast notes:
Pre-empted by Tower of Power: 50 Years of Funk and Soul on 27 Feb, Joe Bonamassa: Live from the Ryman on 6 Mar, and Carpenters: Close to You (My Music Presents) on 13 Mar.
Broadcast Source: WSRE