Last updated 20 January 2019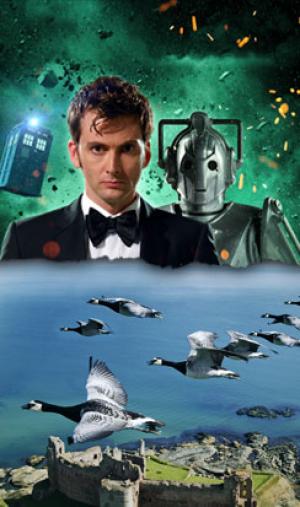 Visit Link
Presentation: Monday 16th June 2014
7:00pm EDT
(23:00 GMT)
«
»
US Venues
Featuring: David Tennant, Noel Clarke, Billie Piper, Noel Clarke, Camille Coduri, Shaun Dingwall, Helen Griffin, Andrew Hayden-Smith, Roger Lloyd Pack
Fathom Events and BBC Worldwide are thrilled to bring the Tenth Doctor, to cinemas nationwide for a world-altering two-night event on Monday, June 16 and Tuesday, June 17. The two-day celebration begins with a Doctor Who adventure, featuring Rise of the Cybermen and The Age of Steel, seamlessly tied together as one continuous story. Starring David Tennant as the Tenth Doctor, this special event will also include an exclusive interview with David as he reflects on his time as the Doctor. But that's not all! Hang onto your ticket and join David Tennant the following night for another exciting evening at the cinema. Night Two offers an entirely unique event experience as fans get to take flight and soar alongside birds in a groundbreaking 3D aerial adventure narrated by David Tennant. Specially reversioned for cinemas, this event will put you in the middle of flocks of birds as they soar above the most iconic landscapes and witness the greatest animal spectacles on Earth.
Synopsis Source: Fathom Events listings
Shown in selected theaters across the United States.
Presentation Source: Fathom Events