Last updated 01 December 2018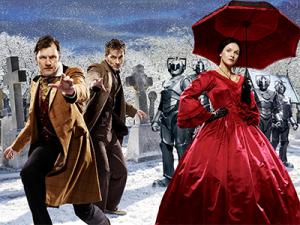 Broadcast: Wednesday 21st November 2018
3:20am-4:40am EST
(08:20 GMT)
<
>
«
»
BBC America
Featuring: David Tennant, Dervla Kirwan, David Morrissey, Velile Tshabalala
When the Doctor investigates a spate of mysterious deaths, he's surprised to meet another Doctor. The two must combine forces to defeat a human ally to the Cybermen. But are two Doctors enough to stop the rise of the CyberKing?
Synopsis Source: BBC America schedule
---
Broadcast notes:
This may have been The Next Doctor or Planet of the Dead, but more likely to have been the former, based on the episode shown on 10 Dec.
Broadcast Source: BBC America