Last updated 08 April 2018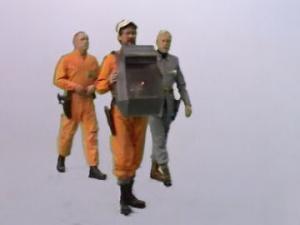 Visit Broadcast Link
Broadcast: Sunday 8th April 2018
12:30am-2:00am CDT
(05:30 GMT)
«
»
WILL
Featuring: Tom Baker, John Leeson, Lalla Ward, Matthew Waterhouse, Clifford Rose
The TARDIS is hijacked in the vortex by a time sensitive Tharil named Biroc, and brought to a strange white void. Biroc wants to free the others of his race who are being transported in a slave ship, captained by Rorvik, which is also trapped in the void. The only other thing present in the void is an ancient gateway leading to a decrepit banqueting hall.
Synopsis Source: WILL website schedule listing
This story was originally scheduled for last week at 10:00pm, but looks like it might have been cancelled at the last moment.
Broadcast Source: WILL