Last updated 12 January 2018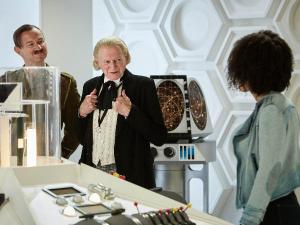 Broadcast: Monday 25th December 2017
9:00pm-10:26pm EST
(02:00 GMT)
<
>
«
»

<
>
«
»
BBC America
(adverts during broadcast)
Featuring: Peter Capaldi, Jodie Whittaker, Pearl Mackie, David Bradley, Jenna Coleman, Mark Gatiss, Matt Lucas
Two Doctors stranded in an Arctic snowscape, refusing to face regeneration. Enchanted glass people, stealing their victims from frozen time. And a World War One captain destined to die on the battlefield, but taken from the trenches to play his part in the Doctor's story.
An uplifting new tale about the power of hope in humanity's darkest hours, Twice Upon A Time marks the end of an era. But as the Doctor must face his past to decide his future, his journey is only just beginning...
Synopsis Source: Doctor Who Guide
Broadcast Source: BBC America
Ratings Information:
Consolidated figures:
1.145m viewers, 17th place - Nielsen - original cable shows by day, P18-49 %
Additional figures:
2.200m viewers (+7 days)
The episode achieved 1,145,000 viewers (0.40 18-49), which placed it 17th in the cable chart for original shows [source: Showbuzz Daily ]
Demographics: P18-49 0.40, F18-49 0.30, M18-49 0.42, P18-34 0.28, F12-34 0.26, M12-34 0.24, P25-54 0.46, P50+ 0.50
TV By The Numbers: BBC America's annual "Doctor Who" Christmas special managed to grab the same 0.4 as last year's special did also, despite this year's episode being Peter Capaldi's highly-anticipated final appearance as the Doctor.
Advanced Television: Viewers tuned in record numbers to BBC AMERICA on Christmas Day 2017 to say goodbye to Doctor Who's Twelfth Doctor, played by Peter Capaldi, in the special Doctor Who: Twice Upon a Time. The annual programming event notched 2.2 million total viewers and 1.1 million adults 25-54 across its two Christmas telecasts in Nielsen live+7 ratings, propelling BBC AMERICA to its biggest night in over 2 years and a top 5 cable rank during the premiere telecast. The special posted double-digit increases from the most recent season of Doctor Who across all key demos and bested the previous year's Christmas special by 62,000 viewers, making it BBC AMERICA's most-watched telecast in two years.