Last updated 19 August 2017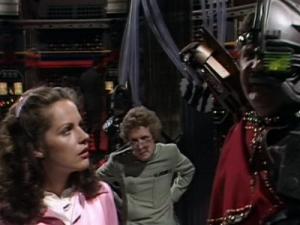 Broadcast: Saturday 19th August 2017
10:00pm-10:30pm CDT
(03:00 GMT)
<
>
«
»
KPTS
Featuring: Tom Baker, John Leeson, Mary Tamm, Bruce Purchase, Andrew Robertson
The Captain seizes Romana, and it's the Doctor to the rescue. Romana: Mary Tamm. Dr. Who: Tom Baker. Mr. Fibuli: Andrew Robertson. Nurse: Rosalind Lloyd.
Synopsis Source: KPTS website schedule listings
---
Broadcast notes:
Pre-empted on 5th August by 60s Pop, Rock & Soul and on 12th August by My Family: Death Takes a Policy.
Broadcast Source: KPTS