Last updated 20 March 2017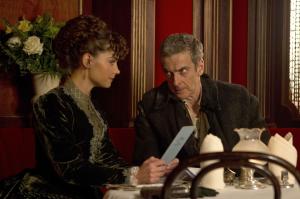 Visit Broadcast Link
Broadcast: Saturday 25th February 2017
11:00pm-12:30am CST
(05:00 GMT)
«
»
WMVS/MPTV (Milwaukee) HD 10.1/36.2
Featuring: Peter Capaldi, Matt Smith, Jenna Coleman, Neve McIntosh, Dan Starkey, Catrin Stewart
When the newly-regenerated doctor arrives in Victorian London, he finds a dinosaur rampant in the Thames and a spate of deadly spontaneous combustions.
Synopsis Source: MPTV website schedule listing
This was originally scheduled as Doctor Who And The Silurians in February, but in late March the schedules had changed to indicate Deep Breath aired instead. Doctor Who And The Silurians was scheduled again for the 1st April .
Broadcast Source: MPTV