Last updated 16 March 2017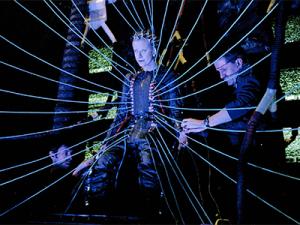 Broadcast: Saturday 30th June 2007
11:45pm-12:00am PDT
(06:45 GMT)
<
>
«
»
KQED Plus
Featuring:

John Humphrys

, John Barrowman, Charlie Bluett, Phil Collinson, Russell T Davies, Neill Gorton, Paterson Joseph, Simon Pegg, Billie Piper, Alan Ruscoe
This episode goes behind the scenes of Bad Wolf

Simon Pegg narrates a behind-the-scenes look of Doctor Who, following the production team, writers and cast as they bring the Time Lord back to the screen. A journey from his ultimate fans to his ultimate foe.
Synopsis Source: Doctor Who Guide
Broadcast Source: TWiDW
Report from the This Week in Doctor Who Archive:
Saturday 30th June 2007:
KTEH/KCAH San Jose/Watsonville, CA
http://www.kteh.org
analog 54, 25 digital .5 (KTEH only - KCAH-DT now simulcasts KQED)
San Francisco DirecTV 54,903
San Francisco Dish 54,8234
Monterey DirecTV 25
Monterey Dish 25,9190
Saturday 11PM PDT 1-12 Bad Wolf pt 1 of 2
Saturday 11:45PM PDT DWC 1-12 The World of Who
Tuesday 8PM and 2AM,
7 July 11PM PDT
1-13 The Parting of the Ways pt 2 of 2


Tuesday 8:45PM and 2:45AM,
7 July 11:45PM PDT
DWC 1-13 The Last Battle

Tuesday 9PM and 3AM PDT DWC 1-06 The Daleks
Tuesday 9:11PM and 3:11AM PDT DWC 1-03 TARDIS Tales
10 July 8PM and 2AM PDT 1-01 Rose (2nd Cycle Begins)
10 July 8:45PM and 2:45AM PDT DWC 1-01 Bringing Back the Doctor
10 July 9PM and 3AM PDT DWC 1-??
10 July 9:11PM and 3:11AM PDT DWC 1-??