Last updated 12 March 2017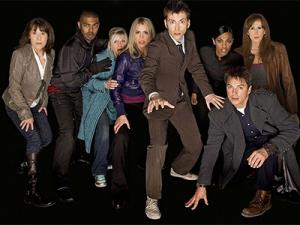 Visit Broadcast Link
Broadcast: Saturday 20th March 2010
11:12pm-12:00am MDT
(05:12 GMT)
<
>
«
»

<
>
«
»
Idaho Public Television
Featuring: David Tennant, Freema Agyeman, John Barrowman, Bernard Cribbins, Billie Piper, Elisabeth Sladen, Catherine Tate, Julian Bleach
Earth's greatest heroes assemble in time of dire need. But can the Doctor's secret army defeat the might of the new Dalek Empire? With battles on the streets and in the skies, the Doctor and Donna must brave the Shadow Proclamation to find out the truth.
Synopsis Source: Idaho PBS website schedule listing
Broadcast Source: Idaho Public Television
Report from the This Week in Doctor Who Archive:
Saturday 20th March 2010:
Idaho Public TV
4.1, 10.1, 13.1, 26.1
http://idahoptv.org
Boise DirecTV 4
Boise Dish 4,7141
Idaho Falls Dish 10,7746
Twin Falls Dish 13,8807
Spokane, WA DirecTV 26
Spokane, WA Dish 26,9178
Series 2008 - 1st Cycle:
Saturday 11:12PM MDT/PDT 2008-12 The Stolen Earth pt 1 of 2

27 March 10:56PM MDT/PDT 2008-13 Journey's End pt 2 of 2
3 April 11PM MDT/PDT 2008-01 Partners in Crime (start of 2nd cycle)
10 April 11PM MDT/PDT 2008-02 The Fires of Pompeii
17 April 11PM MDT/PDT 2008-03 Planet of the Ood
24 April 11PM MDT/PDT 2008-04 The Sontaran Stratagem pt 1 of 2
1 May 11PM MDT/PDT 2008-05 The Poison Sky pt 2 of 2
8 May 11PM MDT/PDT 2008-06 The Doctor's Daughter
15 May 11PM MDT/PDT 2008-07 The Unicorn and the Wasp
22 May 11PM MDT/PDT 2008-08 Silence in the Library pt 1 of 2
29 May 11PM MDT/PDT 2008-09 Forest of the Dead pt 2 of 2
5 June 11PM MDT/PDT 2008-10 Midnight
Idaho Public TV has the right to air Series 2006 one more time before March 31, 2010. They are also in the middle of their 3rd Cycle of Series 2007.