Last updated 11 March 2017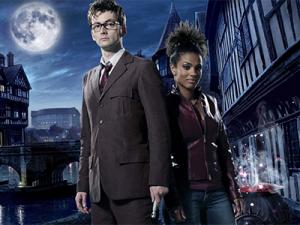 Visit Broadcast Link
Broadcast: Saturday 24th January 2009
11:00pm-11:46pm MST
(06:00 GMT)
<
>
«
»

<
>
«
»
Idaho Public Television
Featuring: David Tennant, Freema Agyeman, Christina Cole, Dean Lennox Kelly
For Martha's first trip in the T.A.R.D.I.S., the Doctor takes her to Elizabethan England. When they find William Shakespeare under the control of deadly witch-like creatures, they must battle forces from the dawn of the universe.
Synopsis Source: Idaho PBS website schedule listing
Broadcast Source: Idaho Public Television
Report from the This Week in Doctor Who Archive:
Saturday 24th January 2009:
Idaho Public TV
http://idahoptv.org
analog 4,10,13,26 digital .1
Boise DirecTV 4
Boise Dish 4,7141
Idaho Falls Dish 10,7746
Twin Falls Dish 13,8807
Spokane, WA DirecTV 26
Spokane, WA Dish 26,9178
Series 3 - 1st Cycle:
Saturday 11PM MST/PST 3-02 The Shakespeare Code


Saturday 11:46PM MST/PST DWC 3-02 Stage Fright

31 January 11PM MST/PST 3-03 Gridlock
31 January 11:46PM MST/PST DWC 3-03 Are We There Yet?
7 February 11PM MST/PST 3-04 Daleks in Manhattan pt 1 of 2
7 February 11:47PM MST/PST DWC 3-04 A New York Story
14 February 11:10PM MST/PST 3-05 Evolution of the Daleks pt 2 of 2
(Confidential pre-empted)
21 February 11PM MST/PST 3-06 The Lazarus Experiment
21 February 11:45PM MST/PST DWC 3-06 Monsters Inc
28 February, 7 and 14 March pre-empted by pledge specials.
Idaho Public TV has the right to air Series 2 another 2 times before March 31, 2010.