Last updated 05 March 2017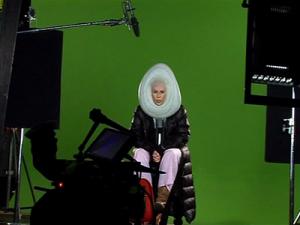 Broadcast: Saturday 14th August 2010
9:43pm-10:00pm CDT
(02:43 GMT)
«
»
Houston Public Media
Featuring: Ailsa Berk, Phil Collinson, Russell T Davies, O T Fagbenle, Anthony Head, Euros Lyn, Steven Moffat, Harry Peacock, Catherine Tate, Rory Taylor, David Tennant
This episode goes behind the scenes of Silence in the Library

The Doctor and Donna are on the set of the eerie Library Planet to confront the monsters of the dark, the vicious Vashta Nerada. There's a look at how these shadowy creatures are created, how a disused library in Swansea became the setting for all the universe's books, how the effects boys and crew take it in turns to fire books in the general direction of David Tennant and how writer Steven Moffat has contributed to the series.
Synopsis Source: Doctor Who Guide
Broadcast Source: TWiDW
Report from the This Week in Doctor Who Archive:
Sunday 8th August 2010:
KUHT 8.1 Houston, TX
http://www.houstonpbs.org
Series 2008 - 2nd Cycle:
7 August 9PM, Late 10 August 2AM CDT 2008-07 The Unicorn and the Wasp
7 August 9:45PM, Late 10 August 2:45AM CDT DWC 407 Nemesis
14 August 9PM, Late 17 August 2AM CDT 2008-08 Silence in the Library pt 1 of 2
14 August 9:43PM, Late 17 August 2:43AM CDT DWC 408 Shadow Play
21 August 9PM, Late 24 August 2AM CDT 2008-09 Forest of the Dead pt 2 of 2
21 August 9:45PM, Late 24 August 2:45AM CDT DWC 409 River Runs Deep
28 August 9PM, Late 31 August 2AM CDT 2008-10 Midnight
28 August 9:44PM, Late 31 August 2:44AM CDT DWC 410 Look Who's Talking
25 September 9PM, Late 28 September 2AM CDT 2008-11 Turn Left
25 September 9:50PM, Late 28 September 2:50AM CDT DWC 411 Here Come the Girls
KUHT has aired the 2009 Specials one time.