Last updated 26 February 2017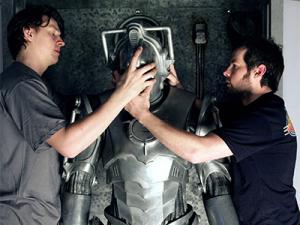 Broadcast: Sunday 20th July 2008
9:45pm-10:00pm PDT
(04:45 GMT)
<
>
«
»

<
>
«
»
KVCR
Featuring: Nicholas Briggs, Russell T Davies, Mark Gatiss, Neill Gorton, Graeme Harper, Lynsey Muir, David Tennant
This episode goes behind the scenes of Rise of the Cybermen

Going behind the scenes of Doctor Who. The mean, metal monsters are back. Get an exclusive chance to see all the backstage footage of their spine-chilling comeback.
Synopsis Source: Doctor Who Guide
Broadcast Source: TWiDW
Report from the This Week in Doctor Who Archive:
Saturday 19th July 2008:
KVCR San Bernadino, CA
http://www.kvcr.org
analog 24 digital .1
Los Angeles DirecTV 24
Los Angeles Dish 24,8014
New Who affiliate for 2008!
Series 2 - 1st Cycle:
Sunday 9PM PDT 2-05 Rise of the Cybermen pt 1 of 2


Sunday 9:45PM PDT DWC 2-05 Cybermen

27 July 9PM PDT 2-06 The Age of Steel pt 2 of 2
27 July 9:45PM PDT DWC 2-06 From Zero to Hero
While KVCR's main viewing area is east of the Los Angeles area, it is considered in the LA Designated Market Area and both satellite services carry it as a Los Angeles local station.