Last updated 23 February 2017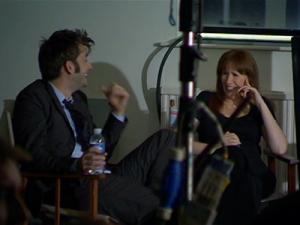 Broadcast: Sunday 31st January 2010
12:50am-1:00am CST
(06:50 GMT)
<
>
«
»

<
>
«
»
KERA
Featuring: Phil Collinson, Bernard Cribbins, Russell T Davies, Anthony Head, Sarah Lancashire, James Strong, Catherine Tate, David Tennant, Jacqueline King
This episode goes behind the scenes of Partners in Crime

Catherine Tate returns as the unstoppable Donna Noble. In her search for the Doctor, Donna finds herself face to face with the mighty Miss Foster and a larger-than-life threat against mankind. With the tension rising, the programme gets up close and personal with the Doctor's latest companion from her first days on set through to her battle against an army of sinister Adipose. Features interviews with Tate, David Tennant and Sarah Lancashire.
Synopsis Source: Doctor Who Guide
Broadcast Source: TWiDW
Report from the This Week in Doctor Who Archive:
Saturday 30th January 2010:
KERA 13.1 Dallas, TX
http://www.kera.org
Dallas DirecTV 13,889 DirecTVHD 13
Dallas, Sherman Dish 13,8406
Tyler Dish 13,8886
Series 30 - 1st Cycle:
Late Saturday Midnight CST 30-01 Partners in Crime


Late Saturday 12:50AM CST DWC 4-01 A Noble Return

Late 6 February Midnight CST 30-02 The Fires of Pompeii
Late 6 February 12:50AM CST DWC 4-02 The Italian Job
Late 13 February Midnight CST 30-03 Planet of the Ood
Late 13 February 12:45AM CST DWC 3-03 Oods and Ends
KERA has the right to 2 more showings of Series 28 before March 31, 2010. KERA has aired Series 29 once.