Last updated 19 February 2017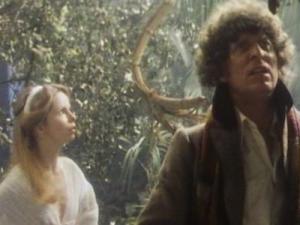 Broadcast: Sunday 20th January 2008
12:00am-1:31am EST
(05:00 GMT)
«
»
MPT Maryland
Featuring: Tom Baker, David Brierley, Lalla Ward, Myra Frances, Eileen Way
The Doctor and Romana follow a distress signal to the jungle world of Chloris. The planet is ruled by the ruthless Lady Adrasta who takes the Doctor prisoner.
Synopsis Source: Doctor Who Guide
Broadcast Source: TWIDW
Report from the This Week in Doctor Who Archive:
Saturday 19th January 2008:
MPT Maryland
http://www.mpt.org
analog 22, 67, 31, 28, 62, 36 digital .1
DC/Hagerstown, Baltimore DirecTV 22,973
Baltimore Dish 22,8736
Baltimore DirecTV HD in 2008?
Late Saturday Midnight-1:31AM EST The Creature from the Pit movie
Classic Season 17, Episodes 9 through 12. Doctor:
Tom Baker
.
You may want to set an extra minute on your timer if you are recording the show while sleeping. If you are awake - there isn't any quality competition in our TV markets at this late hour, so obviously you will be watching.
26 January - pre-empted. Replaced with a repeat of a special about Brain Fitness. This is a recent change - Nightmare of Eden was previously scheduled.
MPT Maryland has the right to air Series 1 another 3 times before February 28, 2009.