Last updated 19 February 2017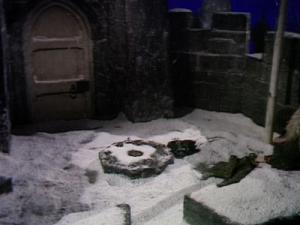 Broadcast: Sunday 4th November 2007
12:00am-1:35am EDT
(04:00 GMT)
«
»
MPT Maryland
Featuring: Tom Baker, Mary Tamm, Iain Cuthbertson, Cyril Luckham
The Guardian of Time gives the Doctor a difficult task, and a new assistant. Together they must search for the six segments of the Key to Time, to prevent the Universe from being plunged into eternal chaos.
On their mission, the Doctor and Romana travel to the planet Ribos where the first segment of the key is protected by the monstrous Shrivenzale.
Synopsis Source: Doctor Who Guide
Broadcast Source: TWIDW
Report from the This Week in Doctor Who Archive:
Saturday 3rd November 2007:
MPT Maryland
http://www.mpt.org
analog 22, 67, 31, 28, 62, 36 digital .1
DC/Hagerstown, Baltimore DirecTV 22,973
Baltimore Dish 22,8736
Late Saturday Midnight-1:35AM EDT The Ribos Operation movie
Classic Season 16, Episodes 1 through 4. Doctor:
Tom Baker
.
Late 10 November Midnight-1:35AM EST The Pirate Planet movie
Late 17 November Midnight-1:30AM EST The Stones of Blood movie
Late 24 November Midnight-1:30AM EST The Androids of Tara movie
MPT Maryland has the right to air Series 1 another 3 times before February 28, 2009.