Last updated 19 February 2017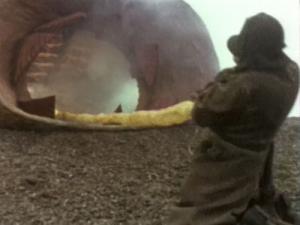 Broadcast: Sunday 5th March 2006
12:30am-2:00am EST
(05:30 GMT)
«
»
MPT Maryland
Featuring: Jon Pertwee, Nicholas Courtney, Katy Manning, Roger Delgado, Richard Franklin, Paul Grist, John Levene
Axos lands on Earth. The Axons ask only to be allowed to repair their damaged ship and offer the gift of the miraculous Axonite in return. But the Axons aren't all that they seem.
Synopsis Source: Doctor Who Guide
Broadcast Source: TWIDW
Report from the This Week in Doctor Who Archive:
Wednesday 1st March 2006:
MPT Maryland
http://www.mpt.org
analog 22, 67, 31, 28, 62, 36
digital 22-2 (42-2), 67-2 (29-2), 31-2 (44-2), 28-2 (56-2), 62-2 (28-2), 36-2 (54-2)
DC/Hagerstown, Baltimore DirecTV 22,980
Baltimore Dish 22,8736
Late Saturday 12:30-2AM EST The Claws of Axos movie
Season 8, Episodes 11 through 14. Doctor:
Jon Pertwee
.
Time approximate after pledge specials. Allow extra time.
The 3rd Doctor, Jo, and U*N*I*T note the arrival of an alien spacecraft in England. The inhabitants - Axons - wish to live on our planet and offer technology to solve all Earth food needs. Has Earth finally been visited by friendly aliens? Or is this a Hustle?
11 March Colony In Space
18 March The Dæmons
25 March The Curse of Peladon
1 April The Sea Devils?