Last updated 19 February 2017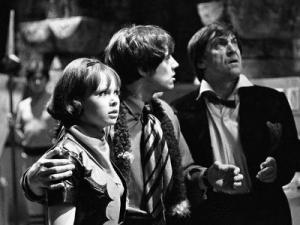 Broadcast: Sunday 25th December 2005
12:00am-1:30am EST
(05:00 GMT)
<
>
«
»
MPT Maryland
Featuring: Dr. Who, Frazer Hines, Wendy Padbury
The TARDIS lands on the planet of the Gonds, a primitive and enslaved people. Every year, two of the finest Gond students are sent to be 'companions' of the mysterious and unseen Krotons. But the Doctor reveals that only death awaits them.
Synopsis Source: Doctor Who Guide
Broadcast Source: TWIDW
Report from the This Week in Doctor Who Archive:
Wednesday 21st December 2005:
MPT Maryland
http://www.mpt.org
analog 22, 67, 31, 28, 62, 36
digital 22-2 (42-2), 67-2 (29-2), 31-2 (44-2), 28-2 (56-2), 62-2 (28-2), 36-2 (54-2)
DC/Hagerstown, Baltimore DirecTV 22,980
Baltimore Dish 22,8736
Late Christmas Eve Midnight-1:30AM EST The Krotons movie
Season 6, Episodes 19 through 22. Doctor:
Patrick Troughton
. The 2nd Doctor, Jamie, and Zoe discover a world where the 2 brightest of every class are recruited to join the Krotons, and are never seen again.
31 December The Seeds of Death