Last updated 19 February 2017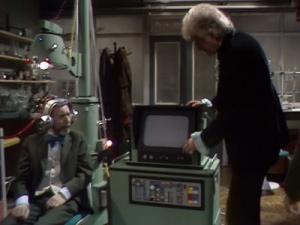 Broadcast: Sunday 27th November 2005
12:00am-2:30am EST
(05:00 GMT)
<
>
«
»
MPT Maryland
Featuring: Jon Pertwee, Nicholas Courtney, Elisabeth Sladen, John Dearth, Richard Franklin, John Kane, John Levene
The Doctor receives a mysterious package from his old companion, Jo Grant. Sarah joins Mike Yates to investigate sinister events at a Buddhist meditation centre.
Synopsis Source: Doctor Who Guide
Broadcast Source: TWIDW
Report from the This Week in Doctor Who Archive:
Wednesday 23rd November 2005:
MPT Maryland
http://www.mpt.org
analog 22, 67, 31, 28, 62, 36
digital 22-2 (42-2), 67-2 (29-2), 31-2 (44-2), 28-2 (56-2), 62-2 (28-2), 36-2 (54-2)
DC/Hagerstown, Baltimore DirecTV 22,980
Baltimore Dish 22,8736
Late Saturday Midnight-2:30AM EST Planet of the Spiders movie
Season 11, Episodes 21 through 26. Doctor:
Jon Pertwee
.
The final
Jon Pertwee
story. A wild, wooly epic. Car chases, fear facing, an old friend turned enemy turned friend. A surprise visitor that we've heard about for some time. A message from Jo. The end of an era.
May start late due to

Greatful Dead

pledge concert.
3 December (12:30AM) The Tomb of the Cybermen - 4th cycle through the Troughton/Pertwee stories in a row, since the contract's still running but BBC Worldwide Americas isn't letting the station get more stories. Time approximate after

Fawlty Towers

pledge special.