Last updated 19 February 2017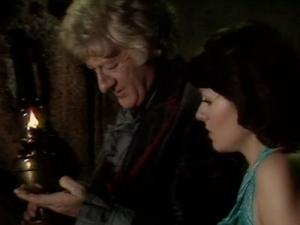 Broadcast: Sunday 13th November 2005
12:00am-1:35am EST
(05:00 GMT)
<
>
«
»
MPT Maryland
Featuring: Jon Pertwee, Elisabeth Sladen, Julian Fox, Joy Harrison, Duncan Lamont
The TARDIS suffers a power drain and is forced down on the planet Exxilon. Sarah is captured by the primitive inhabitants and the Doctor comes face to face with his oldest enemies.
Synopsis Source: Doctor Who Guide
Broadcast Source: TWIDW
Report from the This Week in Doctor Who Archive:
Wednesday 9th November 2005:
MPT Maryland
http://www.mpt.org
analog 22, 67, 31, 28, 62, 36
digital 22-2 (42-2), 67-2 (29-2), 31-2 (44-2), 28-2 (56-2), 62-2 (28-2), 36-2 (54-2)
DC/Hagerstown, Baltimore DirecTV 22,980
Baltimore Dish 22,8736
Late Saturday Midnight-1:35AM EST Death to the Daleks movie
Season 11, Episodes 11 through 14. Doctor:
Jon Pertwee
.
We'll see if this airs - it is a Dalek story.
A power failure strands the TARDIS, a human rescue mission, and a Dalek squad on a planet in the middle of nowhere. Can they work together and save the galaxy? Or will the status quo prevail?
19 November (12:02AM) The Monster of Peladon
26 November Planet of the Spiders