Last updated 19 February 2017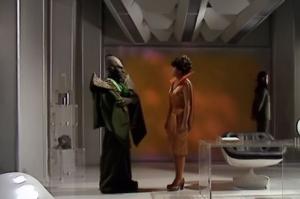 Broadcast: Sunday 16th October 2005
12:00am-2:30am EDT
(04:00 GMT)
<
>
«
»
MPT Maryland
Featuring: Jon Pertwee, Katy Manning, Vera Fusek, Michael Hawkins
The Doctor and Jo land on a spaceship in the far future as it is attacked by Ogrons, which the human crew see as Draconians. The Doctor and Jo are taken to Earth as spies.
Synopsis Source: Doctor Who Guide
Broadcast Source: TWIDW
Report from the This Week in Doctor Who Archive:
Wednesday 12th October 2005:
MPT Maryland
http://www.mpt.org
analog 22, 67, 31, 28, 62, 36
digital 22-2 (42-2), 67-2 (29-2), 31-2 (44-2), 28-2 (56-2), 62-2 (28-2), 36-2 (54-2)
DC/Hagerstown, Baltimore DirecTV 22,980
Baltimore Dish 22,8736
Late Saturday Midnight-2:30AM EDT Frontier In Space movie
Season 10, Episodes 9 through 14. Doctor:
Jon Pertwee
.
The Doctor and Jo find themselves suspected by two empires, Earth and Draconia. Earth believes they are Draconian spies - Draconia believes they are Earth spies. The Doctor must clear their names and make people listen before the two worlds are drawn into a devastating war.
A story that culminates in a link to the next adventure - which due to contract problems, MPT will not be allowed to air.
22 October The Green Death
29 October The Time Warrior