Last updated 19 February 2017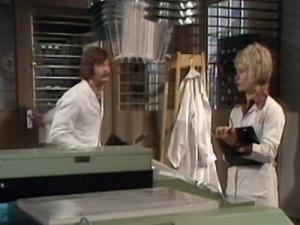 Broadcast: Sunday 25th September 2005
12:00am-2:30am EDT
(04:00 GMT)
<
>
«
»
MPT Maryland
Featuring: Jon Pertwee, Nicholas Courtney, Katy Manning, Ian Collier, Roger Delgado, Richard Franklin, John Levene, Wanda Moore
Masquerading as research scientist, Professor Thascales, the Master is using a device called TOMTIT to summon an ancient and powerful creature from beyond time.
Synopsis Source: Doctor Who Guide
Broadcast Source: TWIDW
Report from the This Week in Doctor Who Archive:
Wednesday 21st September 2005:
MPT Maryland
http://www.mpt.org
analog 22, 67, 31, 28, 62, 36
digital 22-2 (42-2), 67-2 (29-2), 31-2 (44-2), 28-2 (56-2), 62-2 (28-2), 36-2 (54-2)
DC/Hagerstown, Baltimore DirecTV 22,980
Baltimore Dish 22,8736
Late Saturday Midnight-2:30AM EDT The Time Monster movie
Season 9, Episodes 21 through 26. Doctor:
Jon Pertwee
.
The Master (in disguise) becomes a tenured professor at Cambridge, where his theories on Interstitial Time fall on sympathetic if disbelieving ears. Alas, just as his experiments begin to bear fruit, the Doctor and Jo arrive to complicate things. A major showcase story for Sgt. Benton.
2 October (12:30AM) The Three Doctors