Last updated 19 February 2017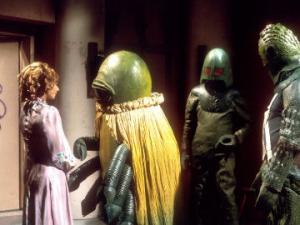 Broadcast: Sunday 4th September 2005
12:00am-1:30am EDT
(04:00 GMT)
<
>
«
»
MPT Maryland
Featuring: Jon Pertwee, Katy Manning, Henry Gilbert, Geoffrey Toone, David Troughton
The planet Peladon is hoping to join the Galactic Federation. But King Peladon's Chancellor has been murdered and it seems that the legendary royal beast, Aggedor, is to blame.
Synopsis Source: Doctor Who Guide
Broadcast Source: TWIDW
Report from the This Week in Doctor Who Archive:
Wednesday 31st August 2005:
MPT Maryland
http://www.mpt.org
analog 22, 67, 31, 28, 62, 36
digital 22-2 (42-2), 67-2 (29-2), 31-2 (44-2), 28-2 (56-2), 62-2 (28-2), 36-2 (54-2)
DC/Hagerstown, Baltimore DirecTV 22,980
Baltimore Dish 22,8736
Late Saturday Midnight-1:30AM EDT The Curse of Peladon movie
Season 9, Episodes 5 through 8. Doctor:
Jon Pertwee
.
Sorry. The Day Of The Daleks gets skipped again due to unresolved Dalek rights.
The Time Lords transport the Doctor and TARDIS to the rocky mountain world of Peladon just as Jo Grant is inside preparing for a date. Her suitor being far away on Earth, she has time to help the Doctor and be romanced by a King.
10 September The Sea Devils
17 September The Mutants (12:30AM)
24 September The Time Monster