Last updated 19 February 2017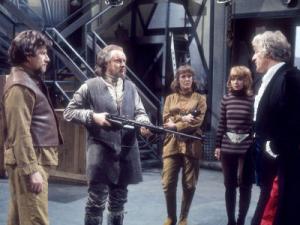 Broadcast: Sunday 21st August 2005
12:00am-2:20am EDT
(04:00 GMT)
<
>
«
»
MPT Maryland
Featuring: Jon Pertwee, Nicholas Courtney, Katy Manning, John Ringham, Helen Worth
The TARDIS takes the Doctor and Jo to a barren world in the far future where human colonists are scratching a living. But at night, the colonists are menaced by a monster.
Synopsis Source: Doctor Who Guide
Broadcast Source: TWIDW
Report from the This Week in Doctor Who Archive:
Wednesday 17th August 2005:
MPT Maryland
http://www.mpt.org
analog 22, 67, 31, 28, 62, 36
digital 22-2 (42-2), 67-2 (29-2), 31-2 (44-2), 28-2 (56-2), 62-2 (28-2), 36-2 (54-2)
DC/Hagerstown, Baltimore DirecTV 22,980
Baltimore Dish 22,8736
Late Saturday Midnight-2:20AM EDT Colony In Space movie
Season 8, Episodes 15 through 20. Doctor:
Jon Pertwee
The 3rd Doctor and Jo take their first trip through time and space. A colony threatened by famine and a mining company looks to the Doctor for help. When he doesn't deliver fast enough they turn to someone else for help. Someone far more sinister.
27 August The Dæmons