Last updated 19 February 2017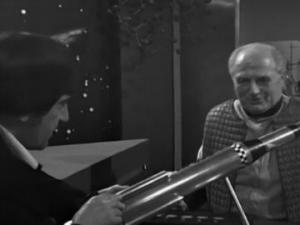 Broadcast: Sunday 5th June 2005
12:00am-2:20am EDT
(04:00 GMT)
<
>
«
»
MPT Maryland
Featuring: Patrick Troughton, Frazer Hines, Wendy Padbury, Ronald Leigh-Hunt, Louise Pajo, Philip Ray, Terry Scully
The TARDIS arrives on 21st Century Earth where all long distance journeys are made instantaneously by T-Mat. But aliens have invaded the T-Mat relay station on the Moon, and they're about to cause havoc...
Synopsis Source: Doctor Who Guide
Broadcast Source: TWIDW
Report from the This Week in Doctor Who Archive:
Wednesday 1st June 2005:
MPT Maryland
http://www.mpt.org
analog 22, 67, 31, 28, 62, 36
digital 22-2 (42-2), 67-2 (29-2), 31-2 (44-2), 28-2 (56-2), 62-2 (28-2), 36-2 (54-2)
DC/Hagerstown, Baltimore DirecTV 22,980
Baltimore Dish 22,8736
Late Saturday Midnight-2:20AM EDT The Seeds of Death movie
Season 6, Episodes 23 through 28. Doctor:
Patrick Troughton
.
The 2nd Doctor, Jamie, and Zoe get involved when the Ice Warriors take control of the Moon, throwing Earth into threat of famine. Can a rocket save the world?
11 June - The War Games movie, pt 1 of 2 (12:30AM)
18 June - pre-empted by

Ed Sullivan

pledge special
25 June - The War Games movie, pt 2 of 2