Last updated 19 February 2017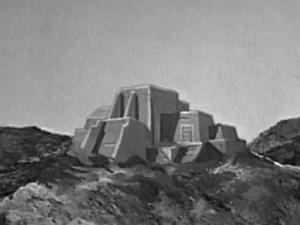 Broadcast: Sunday 15th May 2005
12:00am-2:00am EDT
(04:00 GMT)
<
>
«
»
MPT Maryland
Featuring: Patrick Troughton, Frazer Hines, Wendy Padbury, Ronald Allen, Arthur Cox, Kenneth Ives
The TARDIS lands on the peaceful planet of Dulkis. There, the Doctor, Jamie and Zoe discover that the ruthless Dominators have arrived and are enslaving the inhabitants with their deadly robots, the Quarks.
The Doctor and his crew must prevent the destruction of the planet and help the Dulcians fight back.
Synopsis Source: Doctor Who Guide
Broadcast Source: TWIDW
Report from the This Week in Doctor Who Archive:
Wednesday 11th May 2005:
MPT Maryland
http://www.mpt.org
analog 22, 67, 31, 28, 62, 36
digital 22-2 (42-2), 67-2 (29-2), 31-2 (44-2), 28-2 (56-2), 62-2 (28-2), 36-2 (54-2)
DC/Hagerstown, Baltimore DirecTV 22,980
Baltimore Dish 22,8736
Late Saturday Midnight-2AM EDT The Dominators movie
Season 6, Episodes 1 through 5. Doctor:
Patrick Troughton
.
Zoe, Jamie, and the 2nd Doctor come across a planet of pacifism threatened by 2 aliens who want nothing but war. Fortunately these 2 aliens aren't very good at war - even the Thals in a pacifist era could take them out. Unfortunately for the natives, they are extremists at pacifism. Ultimate experts. Make Gandhi look like a ruthless gun runner. Can the Doctor save the day, and if he does can he avoid from being told off for doing it too violently?
21 May The Mind Robber
28 May The Krotons