Last updated 19 February 2017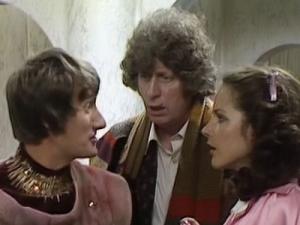 Broadcast: Sunday 24th April 2005
12:05am-1:40am EDT
(04:05 GMT)
<
>
«
»
MPT Maryland
Featuring: Tom Baker, John Leeson, Mary Tamm, Bruce Purchase, Andrew Robertson
The Doctor, Romana and K9 face new dangers searching for the second segment to the Key to Time. What has happened to the planet it is hidden on?
Instead of landing on Calufrax as originally intended, they arrive on a different planet and encounter the Mentiads, and the strange Captain.
Synopsis Source: Doctor Who Guide
---
Broadcast notes:
Movie version created from edited episodes.
Broadcast Source: TWIDW
Report from the This Week in Doctor Who Archive:
Wednesday 20th April 2005:
MPT Maryland
http://www.mpt.org
analog 22, 67, 31, 28, 62, 36
digital 22-2 (42-2), 67-2 (29-2), 31-2 (44-2), 28-2 (56-2), 62-2 (28-2), 36-2 (54-2)
DC/Hagerstown, Baltimore DirecTV 22,980
Baltimore Dish 22,8736
Late Saturday 12:05-1:40AM EDT The Pirate Planet movie
Season 16, Episodes 5 through 8. Doctor:
Tom Baker
.
The second segment of the Key To Time is elusive. Searching for it, the Doctor and Romana find a planet that travels through space murdering and pulverizing other planets.
30 April The Stones of Blood