Last updated 19 February 2017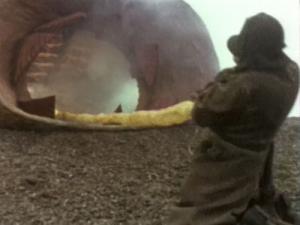 Broadcast: Sunday 19th December 2004
12:00am-1:35am EST
(05:00 GMT)
<
>
«
»
MPT Maryland
Featuring: Jon Pertwee, Nicholas Courtney, Katy Manning, Roger Delgado, Richard Franklin, Paul Grist, John Levene
Axos lands on Earth. The Axons ask only to be allowed to repair their damaged ship and offer the gift of the miraculous Axonite in return. But the Axons aren't all that they seem.
Synopsis Source: Doctor Who Guide
Broadcast Source: TWIDW
Report from the This Week in Doctor Who Archive:
Wednesday 15th December 2004:
MPT Maryland
http://www.mpt.org
analog 22, 67, 31, 28, 62, 36
digital 22-2 (42-2), 67-2 (29-2), 31-2 (44-2), 28-2 (56-2), 62-2 (28-2), 36-2 (54-2)
DC/Hagerstown, Baltimore DirecTV 22,980
Baltimore Dish 22,8736
Late Saturday Midnight-1:35AM EST The Claws of Axos movie
Series 8, Episodes 11 through 14. Doctor:
Jon Pertwee
.
An American agent obsessed with finding the Master gets ensnared in U*N*I*T's latest adventure - gold aliens have arrived offering to solve world hunger. The 3rd Doctor is skeptical. The American finds proof of the aliens' intent from a surprising source.
25 December - Colony In Space movie
1 January - Colony In Space? movie
8 January - The Dæmons? movie