Last updated 19 February 2017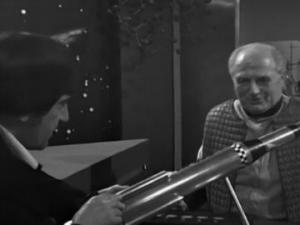 Broadcast: Saturday 16th October 2004
11:57pm-2:27am EDT
(03:57 GMT)
«
»
MPT Maryland
Featuring: Patrick Troughton, Frazer Hines, Wendy Padbury, Ronald Leigh-Hunt, Louise Pajo, Philip Ray, Terry Scully
The TARDIS arrives on 21st Century Earth where all long distance journeys are made instantaneously by T-Mat. But aliens have invaded the T-Mat relay station on the Moon, and they're about to cause havoc...
Synopsis Source: Doctor Who Guide
There were sound issues during the early part of the broadcast.
Broadcast Source: TWIDW
Report from the This Week in Doctor Who Archive:
Wednesday 13th October 2004:
MPT Maryland
http://www.mpt.org
analog 22, 67, 31, 28, 62, 36
digital 22-2 (42-2), 67-2 (29-2), 31-2 (44-2), 28-2 (56-2), 62-2 (28-2), 54
DC/Hagerstown, Baltimore DirecTV 22,980
Baltimore Dish 22,8736
Saturday Midnight-2:30AM EDT The Seeds of Death movie
(actually 11:57pm)
Series 6, Episodes 23 through 28. Doctor:
Patrick Troughton
.
Ice Warriors take control of the T-Mat on Mars, shutting down all Earth commerce. Astronauts are needed to fly to the Moon and retake control. Or if you can't find any astronauts, there's always the 2nd Doctor, Jamie, and Zoe.