Last updated 19 February 2017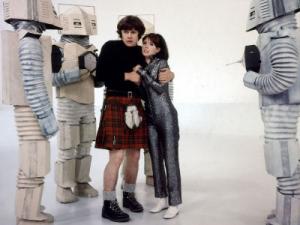 Broadcast: Sunday 3rd October 2004
12:00am-1:33am EDT
(04:00 GMT)
<
>
«
»
MPT Maryland
Featuring: Patrick Troughton, Frazer Hines, Wendy Padbury, Emrys Jones
The Doctor activates an emergency unit on board the TARDIS to escape destruction by a volcanic eruption.
Unfortunately, it moves them out of normal space and time to a deadly world where fantasy rules. The travelers find themselves lured out of the ship into a ghostly white void.
Synopsis Source: Doctor Who Guide
Broadcast Source: TWIDW
Report from the This Week in Doctor Who Archive:
Wednesday 29th September 2004:
MPT Maryland
http://www.mpt.org
analog 22, 67, 31, 28, 62, 36
digital 22-2 (42-2), 67-2 (29-2), 31-2 (44-2), 28-2 (56-2), 62-2 (28-2), 54
DC/Hagerstown, Baltimore DirecTV 22,980
Baltimore Dish 22,8736
Saturday 11:59PM-1:33AM EDT The Mind Robber movie
Series 6, Episodes 6 through 10. Doctor:
Patrick Troughton
.
An emergency TARDIS takeoff throws the 2nd Doctor and crew into a dimension where classical fiction comes to life before your eyes.