Last updated 19 February 2017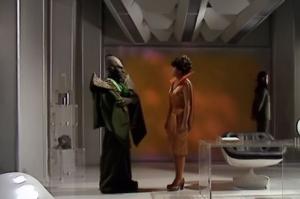 Broadcast: Sunday 1st August 2004
12:00am EDT
(04:00 GMT)
<
>
«
»
MPT Maryland
Featuring: Jon Pertwee, Katy Manning, Vera Fusek, Michael Hawkins
The Doctor and Jo land on a spaceship in the far future as it is attacked by Ogrons, which the human crew see as Draconians. The Doctor and Jo are taken to Earth as spies.
Synopsis Source: Doctor Who Guide
Broadcast Source: TWIDW
Report from the This Week in Doctor Who Archive:
Wednesday 28th July 2004:
MPT Maryland
http://www.mpt.org
analog 22, 67, 31, 28, 62, 36
digital 22-2 (42-2), 67-2 (29-2), 31-2 (44-2), 28-2 (56-2),
28, 54
DC/Hagerstown, Baltimore DirecTV 22,980
Baltimore Dish 22,8736
Late Saturday Mid EDT Frontier In Space movie
Series 10, Episodes 9 through 14. Doctor:
Jon Pertwee
.
Ogrons are impersonating Humans and Draconians, trying to start a war between the two galactic superpowers. The 3rd Doctor and Jo (naturally) find themselves caught in the middle. The Doctor believes another power is behind the Ogron activities.
Note to MPT viewers - when this story last aired 2 ½ years ago, a scheduling error caused them to cut away at about the 1 hour, 58 minute mark and leave it unfinished. Based on the schedule, Frontier should air complete this time. But if anyone working at MPT is watching - give the story 2 ½ hours, not 2 hours. Sorry - next week's movie version of Planet of the Daleks will be the usual version (episode 3 missing, episodes 2+4 edited to cover up episode 3'sm absence).