Last updated 17 February 2017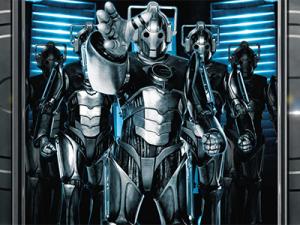 Broadcast: Saturday 7th November 2009
5:00pm-5:45pm EST
(22:00 GMT)
<
>
«
»
WGVU Michigan
Featuring: David Tennant, Noel Clarke, Billie Piper, Noel Clarke, Camille Coduri, Shaun Dingwall, Helen Griffin, Andrew Hayden-Smith, Roger Lloyd Pack
On a parallel Earth where Rose's parents remained together, the Doctor sees a terrifying enemy reborn... The Cybermen are coming!
Synopsis Source: Doctor Who Guide
Broadcast Source: TWiDW
Report from the This Week in Doctor Who Archive:
Saturday 7th November 2009:
WGVU/WGVK 35.1, 52.1 Grand Rapids/Kalamazoo, MI
http://www.wgvu.org
Grand Rapids, MI DirecTV 35
Grand Rapids, MI Dish 35,8716
Series 2 - 3rd Cycle:
Saturday 5PM EST 2-05 Rise of the Cybermen pt 1 of 2
Saturday 5:46PM EST DWC 2-05 Cybermen
Thursday 11PM,
14 November 5PM EST
2-06 The Age of Steel pt 2 of 2
Thursday 11:45PM,
14 November 5:45PM EST
DWC 2-06 From Zero to Hero
19 November 11PM, 21 November 5PM EST 2-07 The Idiot's Lantern
19 November 11:45PM, 21 November 5:45PM EST DWC 2-07 The Writer's Tale
26 and 28 November, all of December - pre-emtped by pledge drives
WGVU/WGVK has aired Series 3 twice and may have the right to additional airings.