Last updated 17 February 2017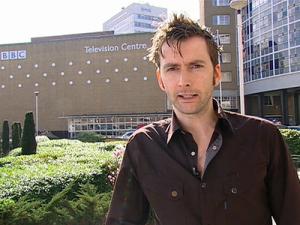 Broadcast: Saturday 15th August 2009
5:45pm-6:00pm EDT
(21:45 GMT)
<
>
«
»
WGVU Michigan
Featuring: David Tennant, Phil Collinson, Russell T Davies, Julie Gardner, Mark Gatiss, Steven Moffat, Gareth Roberts, Jane Tranter
This episode goes behind the scenes of Blink

David Tennant directs his very own edition, given complete control to film his personal account of the making of Doctor Who and to take a nostalgic voyage of discovery to find out the secret behind the programme's success.
Synopsis Source: Doctor Who Guide
Broadcast Source: TWiDW
Report from the This Week in Doctor Who Archive:
Saturday 15th August 2009:
WGVU/WGVK 35.1, 52.1 Grand Rapids/Kalamazoo, MI
http://www.wgvu.org
Grand Rapids, MI DirecTV 35
Grand Rapids, MI Dish 35,8716
Series 3 - 2nd Cycle:
Saturday 5PM EDT 3-10 Blink
Saturday 5:45PM EDT DWC 3-10 Do You Remember the First Time?
Thursday 11PM,
22 August 5PM EDT
3-11 Utopia pt 1 of 3
Thursday 11:45PM,
22 August 5:45PM EDT
DWC 3-11 'Ello 'Ello 'Ello
27 August 11PM, 29 August 5PM EDT 3-12 The Sound of Drums
27 August 11:46PM, 29 August 5:46PM EDT DWC 3-12 The Saxon Mystery
3 September 11PM EDT 3-13 Last of the Time Lords edited international version
3 September 11:47PM EDT DWC 3-13 The Valiant Quest
September pledge drive pre-empts things for a few weeks, then ...
26 September 5PM EDT 2-01 New Earth (Series 2 - 3rd Cycle)
26 September 5:45PM EDT DWC 2-01 New New Doctor
WGVU/WGVK has the right to air Series 2 two more times before March 31, 2010.