Last updated 17 February 2017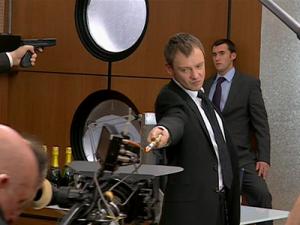 Broadcast: Thursday 30th April 2009
11:45pm-12:00am EDT
(03:45 GMT)
<
>
«
»

<
>
«
»
WGVU Michigan
Featuring: Freema Agyeman, Phil Collinson, Russell T Davies, Anthony Head, John Simm, David Tennant
This episode goes behind the scenes of The Sound of Drums

It's back to earth with a bump for the Doctor and his companions as they come face to face with the infamous Mr Saxon, brought to life by actor John Simm. The team use a number of locations to bring his story to life and Simm discusses how he prepared for the role.
Synopsis Source: Doctor Who Guide
Broadcast Source: TWiDW
Report from the This Week in Doctor Who Archive:
Saturday 25th April 2009:
WGVU-DT/WGVK-DT 35.1, 52.1 Grand Rapids/Kalamazoo, MI
http://www.wgvu.org
Grand Rapids, MI DirecTV 35
Grand Rapids, MI Dish 35,8716
Series 3 - 1st Cycle:
Saturday 5PM EDT 3-11 Utopia pt 1 of 3
Saturday 5:45PM EDT DWC 3-11 'Ello 'Ello 'Ello
Thursday 11PM,
2 May 5PM EDT
3-12 The Sound of Drums pt 2 of 3
Thursday 11:45PM,
2 May 5:45PM EDT
DWC 3-12 The Saxon Mystery
7 May 11PM, 9 May 5PM EDT 3-13 Last of the Time Lords pt 3 of 3
7 May 11:47PM, 9 May 5:47PM EDT DWC 3-13 The Valiant Quest (I hope this starts later. The listed run time of Last of the Time Lords is 46 minutes, 44 seconds, which would indicate the edited International Version - plus another 2 minutes. Sometimes these run times are wrong. Still hoping against hope that Last is the full version and this DWC starts later.)
14 May 10:58PM, 16 May 5PM EDT 3-00 The Runaway Bride (2nd Cycle begins)
21 May 11PM EDT 3-01 Smith and Jones
21 May 11:45PM EDT DWC 3-01 Meet Martha Jones
WGVU/WGVK has the right to air Series 2 two more times before March 31, 2010.