Last updated 17 February 2017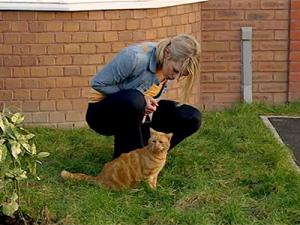 Broadcast: Sunday 20th July 2008
1:45am-2:00am EDT
(05:45 GMT)
<
>
«
»
WGVU Michigan
Featuring: Abisola Agbaje, Russell T Davies, Mark Gatiss, Murray Gold, Matthew Graham, Danny Hargreaves, Clayton Hickman, Euros Lyn, Lynsey Muir, Billie Piper, David Tennant
This episode goes behind the scenes of Fear Her

Going behind the scenes of Doctor Who. A look back at how Doctor Who has frightened households across the land for the past 40 years. The Doctors may have changed, but whether his adventures have been set in the creepy black and white of the 1960s or the glorious colour of 21st century, the mechanics of fear have always been the same.
Synopsis Source: Doctor Who Guide
Broadcast Source: TWiDW
Report from the This Week in Doctor Who Archive:
Saturday 19th July 2008:
WGVU/WGVK Grand Rapids/Kalamazoo, MI
http://www.wgvu.org
analog 35,52 digital .1
Grand Rapids, MI DirecTV 35
Grand Rapids, MI Dish 35,8716
Series 2 - 1st Cycle:
Late Saturday 1AM EDT 2-11 Fear Her
Late Saturday 1:45AM EDT DWC 2-11 Fear Factor

(sic)


Thursday 10PM,
Late 26 July 1:01AM EDT
2-12 Army of Ghosts pt 1 of 2


Thursday 10:45PM,
Late 26 July 1:45AM EDT
DWC 2-12 Welcome to Torchwood

31 July 10PM, Late 2 August 1AM EDT 2-13 Doomsday pt 2 of 2 (replaced by

Miss Marple

and Convention coverage in August - unknown if show returns to lineup in September)
31 July 10:46PM, Late 2 August 1:46AM EDT DWC 2-13 Finale
WGVU/WGVK has the right to air Series 1 two more times before February 28, 2009.