Last updated 01 February 2017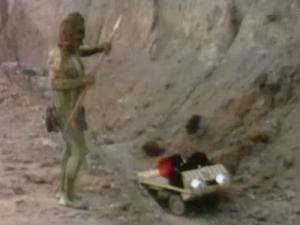 Broadcast: Saturday 22nd January 2005
11:00pm-11:25pm EST
(04:00 GMT)
<
>
«
»
WCET
Featuring: Jon Pertwee, Katy Manning, Tony Caunter, Roger Delgado, Bernard Kay, Morris Perry, John Ringham, Helen Worth
With Jo held prisoner in his TARDIS, the Master forces the Doctor to take him to the underground city of the primitives. Any sign of treachery from the Doctor and Jo will die.
Synopsis Source: Doctor Who Guide
Broadcast Source: TWiDW
Report from the This Week in Doctor Who Archive:
Wednesday 19th January 2005:
WCET Cincinnati, OH
http://cetconnect.org
analog 48
digital 48-2
(34-2)
Cincinnati DirecTV 48,909
Cincinnati Dish 48,8356
Saturday 11PM EST Colony In Space eps 5+6 of 6
Series 8, Episodes 19 through 20. Doctor:
Jon Pertwee
. To save Jo, the Doctor must help the Master discover the secret of the oddly barren planet. Doing so could incur the wrath of the natives, who sacrifice nuisances to their furnace of their god.
Doctor Who

was pulled from the January 29th schedule. This could be the last week.