Last updated 01 February 2017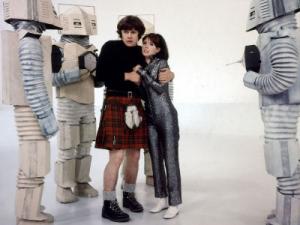 Broadcast: Saturday 29th May 2004
11:25pm-11:50pm EDT
(03:25 GMT)
<
>
«
»
WCET
Featuring: Patrick Troughton, Frazer Hines, Wendy Padbury, Emrys Jones
The Doctor activates an emergency unit on board the TARDIS to escape destruction by a volcanic eruption.
Unfortunately, it moves them out of normal space and time to a deadly world where fantasy rules. The travelers find themselves lured out of the ship into a ghostly white void.
Synopsis Source: Doctor Who Guide
Broadcast Source: TWiDW
Report from the This Week in Doctor Who Archive:
Wednesday 26th May 2004:
WCET Cincinnati, OH
http://cetconnect.org
analog 48
digital 48-2
(34-2)
Cincinnati DirecTV 48,909
Cincinnati Dish 48,8356
Sat 11PM EDT The Dominators ep 5 of 5
Series 6, Episode 5. Doctor:
Pat Troughton
. The Dominators plan to plant a bomb that will destroy the planet Dulkis. The 2nd Doctor, Jamie, and Zoe race to save a world.
Sat 11:25PM EDT The Mind Robber ep 1 of 5
Series 6, Episode 6. Doctor:
Pat Troughton
. An emergency during takeoff threatens the TARDIS, forcing the 2nd Doctor to cross the boundaries between reality and fantasy. A dangerous realm that must be left as soon as possible. But maintaining the willpower to escape in time is tricky.