Last updated 14 January 2017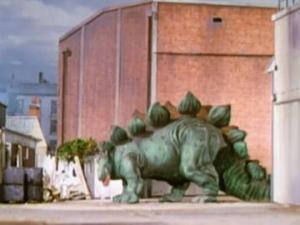 Broadcast: Wednesday 7th November 1990
12:30am-2:25am CST
(06:30 GMT)
<
>
«
»
WTTW 11 Chicago
Featuring: Jon Pertwee, Nicholas Courtney, Elisabeth Sladen, Richard Franklin, Martin Jarvis, John Levene, Peter Miles
The Doctor plans to capture a dinosaur so he can discover who is transporting them through time. But Mike Yates is in league with the enemy and is ordered to stop the Doctor.
Synopsis Source: Doctor Who Guide
Episode one wasn't shown owing to it being in black and white.
Outro: Join us again tomorrow night at 12:30 for another exciting Doctor Who adventure. [source: ChicagoEpguides]
Broadcast Source: BroaDWcast