Last updated 14 January 2017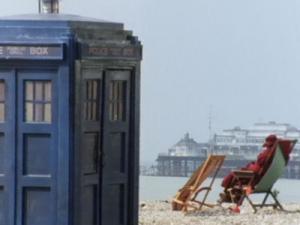 Broadcast: Friday 1st June 1990
11:00pm-12:16am CDT
(04:00 GMT)
<
>
«
»
WTTW 11 Chicago
Featuring: Tom Baker, John Leeson, Lalla Ward, Adrienne Corri, David Haig, Nigel Lambert, Laurence Payne
The Doctor and Romana visit the Leisure Hive on Argolis. The Argolins, survivors of a war, run the Hive as a tourist attraction but its future is jeopardised by a series of deaths.
Synopsis Source: Doctor Who Guide
---
Broadcast notes:
Intro: Tonight, The Doctor and Romana leave for a vacation at the English seaside resort of Brighton. Finding it disappointing, they set out for the Disney World of the universe, the resort planet of Argolis. All things considered, Brighton would have been less stressful as we will soon learn when we accompany our travelers to "The Leisure Hive."
Outro: Next week, we'll feature General Grugger and the Gaztaks. Don't call your favorite ticket service just yet, they're not a heavy metal group, at least not in the terms we understand. Be with us next Friday night at 11:00 when kindly old Zastor of Tigella sends for his pal The Doctor. Together they will check out "Meglos." [source: ChicagoEpguides]
Broadcast Source: BroaDWcast