Last updated 14 January 2017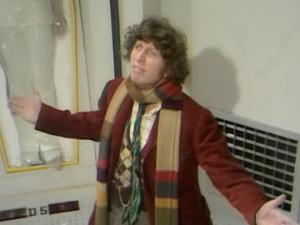 Broadcast: Sunday 10th September 1989
11:00pm-12:33am CDT
(04:00 GMT)
<
>
«
»
WTTW 11 Chicago
Featuring: Tom Baker, Ian Marter, Elisabeth Sladen
The TARDIS arrives in the far future on the Ark space station where mankind's survivors are in hibernation. Sarah is accidentally placed in suspended animation.
Synopsis Source: Doctor Who Guide
Intro: Tonight, The Doctor gets "waspish" and attempts to deliver his foe a stinging defeat. The buzzword is "danger" in the conclusion of "The Ark in Space."
Outro: Next week, The Doctor, Harry and Sarah return to Earth, expecting to find a deserted planet. What they do find will provide the making of "The Sontaran Experiment," next Sunday night at 11. [source: ChicagoEpguides]
Broadcast Source: BroaDWcast