Last updated 13 January 2017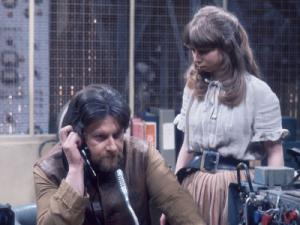 Broadcast: Sunday 26th February 1989
11:00pm-12:15am CST
(05:00 GMT)
<
>
«
»
WTTW 11 Chicago
Featuring: Jon Pertwee, Katy Manning, Tony Caunter, Bernard Kay, Morris Perry, John Ringham, Helen Worth
When Jo attempts to break into the IMC ship to find incriminating information, she is captured and held hostage. If the Doctor doesn't cooperate, Captain Dent will have Jo killed.
Synopsis Source: Doctor Who Guide
WTTW broadcast the story into two parts, with the split taking place during episode three when Caldwell tells the Doctor that an attack on the IMC ship would be a slaughter. [source: ChicagoEpguides]
Intro: Can The Doctor rescue Jo from the primitives? Can he deal with The Guardian? Can he cope with The Master? Can he contain the doomsday machine? The answers to these profound and disturbing questions will be forthcoming in the conclusion of "Colony in Space."
Outro: Next week, as we promised several fortnights ago, Sylvester McCoy returns as The Doctor. Be with us next Sunday night at 11 for "Remembrance of the Daleks." [source: ChicagoEpguides]
Broadcast Source: BroaDWcast