Last updated 12 January 2017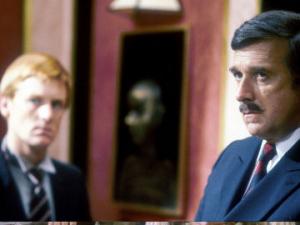 Broadcast: Sunday 24th July 1988
11:00pm-12:31am CDT
(04:00 GMT)
<
>
«
»
WTTW 11 Chicago
Featuring: Peter Davison, Nicholas Courtney, Janet Fielding, Mark Strickson, Sarah Sutton, Valentine Dyall
Caught in a warp ellipse, the TARDIS is drawn to a huge spacecraft orbiting Earth whereupon the Doctor is separated in space and time from Nyssa and Tegan.
Synopsis Source: Doctor Who Guide
---
Broadcast notes:
Intro: Tonight, The Doctor and his companions travel to Earth, but six years apart. Confusing enough, but nothing compared to the danger of The Brigadier meeting himself, and of "Mawdryn Undead."
Outro: Next week, a deserted liner docks with a massive derelict floating in space. The destination: "Terminus." Travel with us if you dare, next Sunday night at 11. [source: ChicagoEpguides]
Broadcast Source: BroaDWcast