Last updated 12 January 2017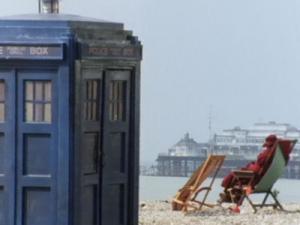 Broadcast: Sunday 3rd April 1988
11:00pm-12:16am CDT
(04:00 GMT)
<
>
«
»
WTTW 11 Chicago
Featuring: Tom Baker, John Leeson, Lalla Ward, Adrienne Corri, David Haig, Nigel Lambert, Laurence Payne
The Doctor and Romana visit the Leisure Hive on Argolis. The Argolins, survivors of a war, run the Hive as a tourist attraction but its future is jeopardised by a series of deaths.
Synopsis Source: Doctor Who Guide
---
Broadcast notes:
Intro: Come with us now to a vacation wonderland on the planet Argolis where 23rd century travelers relax in style. Unfortunately when The Doctor and Romana arrive, they will find that all is not as idyllic as it seems in "The Leisure Hive."
Outro: For years the inhabitants of the planet Tigella have relied on their mysterious source of energy, the dodecahedron, to power their underground city. Next week it will become unstable. The Doctor and Romana will be asked to help and meet Meglos, as shall you when you join us next Sunday evening at 11. [source: ChicagoEpguides]
Broadcast Source: BroaDWcast