Last updated 12 January 2017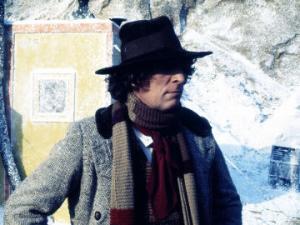 Broadcast: Sunday 20th September 1987
11:00pm-12:10am CDT
(04:00 GMT)
<
>
«
»
WTTW 11 Chicago
Featuring: Tom Baker, Elisabeth Sladen, Tony Beckley, John Challis
Learning of an alien seed pod at the Antarctic, the Doctor and Sarah investigate. But they are too late. A man is already turning into a Krynoid.
Synopsis Source: Doctor Who Guide
---
Broadcast notes:
Intro: Deep in the permafrost of the Antarctic, scientists discover a huge vegetable pod. When The Doctor is consulted in London, he flies out at once. He has met the Krynoid before as we will this night in "The Seeds of Doom."
Outro: Will the pod reach its full, horrific potential? Will you ever eat frozen vegetables again? Do you eat them now? Only one of those questions will be answered next Sunday evening at 11 in the electrifying conclusion of "The Seeds of Doom." [source: ChicagoEpguides]
Broadcast Source: BroaDWcast