Last updated 12 January 2017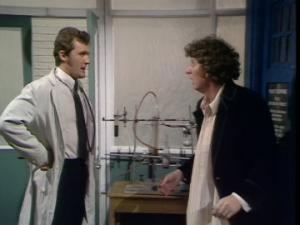 Broadcast: Sunday 5th July 1987
11:00pm-12:30am CDT
(04:00 GMT)
<
>
«
»
WTTW 11 Chicago
Featuring: Tom Baker, Nicholas Courtney, Ian Marter, Elisabeth Sladen, Patricia Maynard
UNIT are called in when top secret plans and valuable equipment is stolen from high security establishments. The newly regenerated Doctor suggests that the thief may not be human.
Synopsis Source: Doctor Who Guide
---
Broadcast notes:
Intro: The trauma of regeneration usually leaves the new Time Lord in less than complete control of his considerable faculties. No exception this, but he better recuperate quickly: the "Robot" awaits.
Outro: Next week, solar flares bring to Earth an unprecedented crisis: a new meaning to the phrase "deep frozen." Be with us next Sunday night at 11 when we visit "The Ark in Space." [source: ChicagoEpguides]
Broadcast Source: BroaDWcast