Last updated 12 January 2017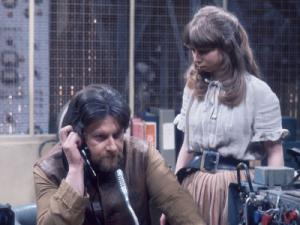 Broadcast: Sunday 18th January 1987
11:00pm-12:15am CST
(05:00 GMT)
<
>
«
»
WTTW 11 Chicago
Featuring: Jon Pertwee, Katy Manning, Tony Caunter, Bernard Kay, Morris Perry, John Ringham, Helen Worth
When Jo attempts to break into the IMC ship to find incriminating information, she is captured and held hostage. If the Doctor doesn't cooperate, Captain Dent will have Jo killed.
Synopsis Source: Doctor Who Guide
---
Broadcast notes:
WTTW broadcast the story into two parts, with the split taking place during episode three when Caldwell tells the Doctor that an attack on the IMC ship would be a slaughter. [source: ChicagoEpguides]
Intro: The Master is intent on seizing the doomsday machine. How can The Doctor stop him? What role will The Guardian play? I'll never tell. You'll have to stay tuned for the conclusion of "Colony in Space," but that's what you intended, wasn't it?
Outro: Next week, a little Earth-bound witchcraft as The Doctor finds he must deal with the Daemons which the English insist on spelling with an additional "e" [sic] though they're sensible enough to pronounce it in the same way was we. Be with us next Sunday evening at 11. [source: ChicagoEpguides]
Broadcast Source: BroaDWcast